Amazon promo code ECHO2PACK now available again. Customers use promo code to get an extra $30 off when adding 2 All-new Echo into the shopping cart. Apply promo code ECHO2PACK here >>>
---

The Year-end promo code. Customers purchase 2 Echo Show 5 for $89.99 with Amazon promo code SHOW52PK >>>
---

Amazon Lat Minute promo code. Customers get an extra $30 off Echo Show 5 on purchase of 2 with promo code SHOW52PK. Buy 2 Echo Show 5 for only $89.99 >>>
---

Customers now get an Echo Dot (3rd Gen) for $0.99 with 1-month of Amazon Music Unlimited subscription for $9.99. Promo here>
Now customers save $60 on Echo Show and get a free Echo Dot and Philips Hue smart bulb >>>
By now the $9.99 Echo Input-Black are sold out, only the White>

Now the lowest price in Echo devices history, Amazon Echo Input for $9.99 only. Bring Alexa to every speaker in your room right now>

Now Amazon offers new promo codes for Echo devices. Promo code FLEX2PK for only $35 on purchase of 2 Echo Flex – A mini smart speaker with Alexa >>>

Promo code AUTO2PK offered for only $49.98 on purchase of 2 Echo Auto – Add Alexa to your car >>>

Now promo code DOT3PACK offered for only $57 on purchase of 3 Echo Dot (3rd Generation) devices, and promo code DOT2PACK for $38 on purchase of 2 Echo Dot devices. Promo codes valid limited time while supplies last >>>

Amazon Cyber Monday countdown for Alexa devices. $60 off now
---
Amazon Black Friday starts big promos for all Echo devices now>


Amazon offers a new promo code 'FTVE19' for customers to get a free Echo Dot with Fire TV Edition purchase. Customers purchase any Insignia or Toshiba Fire TV Edition at Amazon.com, will get a free Echo Dot with the promo code applied at checkout. This promo is limited time by December 2, 2019. The promo page here>

Amazon Black Friday 2019 countdown with promo codes for Echo devices, customers buy 3 Echo Dots for only $64.97 with promo code DOT3PACK > Buy Fire TV Stick plus Echo Dot bundle for only $41.99 with promo code ECHOTV>

Amazon Happy HoliDeals, customers get $30 off the compact smart display-Echo Show 5 here >>>

Customers now get an Echo Dot (3rd Gen) for $0.99 plus one month free Amazon Music Unlimited when first time subscriber to Amazon Music Unlimited. Here's the offer terms and conditions >>>

The Amazon new Echo Flex can get used to Alexa any place in your room, even make announcements or drop in on to other rooms' Echo device. Meet Amazon Echo Flex here >>>

Now the all-new HD 8″ Echo Show with a mic/camera off button to control your privacy. Save on Amazon pre-order here >>>

Amazon now announces 8 of all-new Echo devices including Echo Buds, Echo Flex, Echo Show 8, Echo Studio, Echo Frames, Echo Loop, all-new Echo, and all-new Echo Dot with Clock. Customers receive a free 3-month Audible with the purchase of Echo Buds; save $20 with promo code 'DOT2PACK' on purchase of 2 all-new Echo Dot with Clock. Here the promo page of 8 all-new Echo devices >>>



What's now the price of the smart nightstand display Amazon Echo Show 5? You'll be surprised here >>>

Promo code 'DOT2PK' now available for an extra $20 off when customers add 2 Amazon Echo Dots into the shopping cart. Apply here >>>

Amazon now offers new promo code for Echo Dot. Customers buy 3 Echo Dots for $69.97 with the promo code 'DOT3PK' adding at checkout >>>

Amazon Back to School promos for Echo family. Save right now>

Now 40% off promo for the most popular smart speaker-Echo Dot limited time offer >>>

Limited time offer, customers use promo code SHOWFIVE2PK to redeem extra $30 off on purchasing two Amazon Echo Show 5 devices >>>

Now students with Amazon Prime use Promo codes to get extra 40% of Echo devices including Echo Plus, Echo Show 5, Echo Dot, Echo Spot, Echo Input. Apply the promo codes here >>>

Customers now use Amazon promo code 'SHOWFIVE2PK' to get an extra $30 off when purchasing 2 Echo Show 5 >>>

Promo on July 18, 2019, customers with Prime save $15 (43% off) on Echo Connect – connect the home phone with Alexa >>>

Just one more day for Echo devices, save with the Prime promo>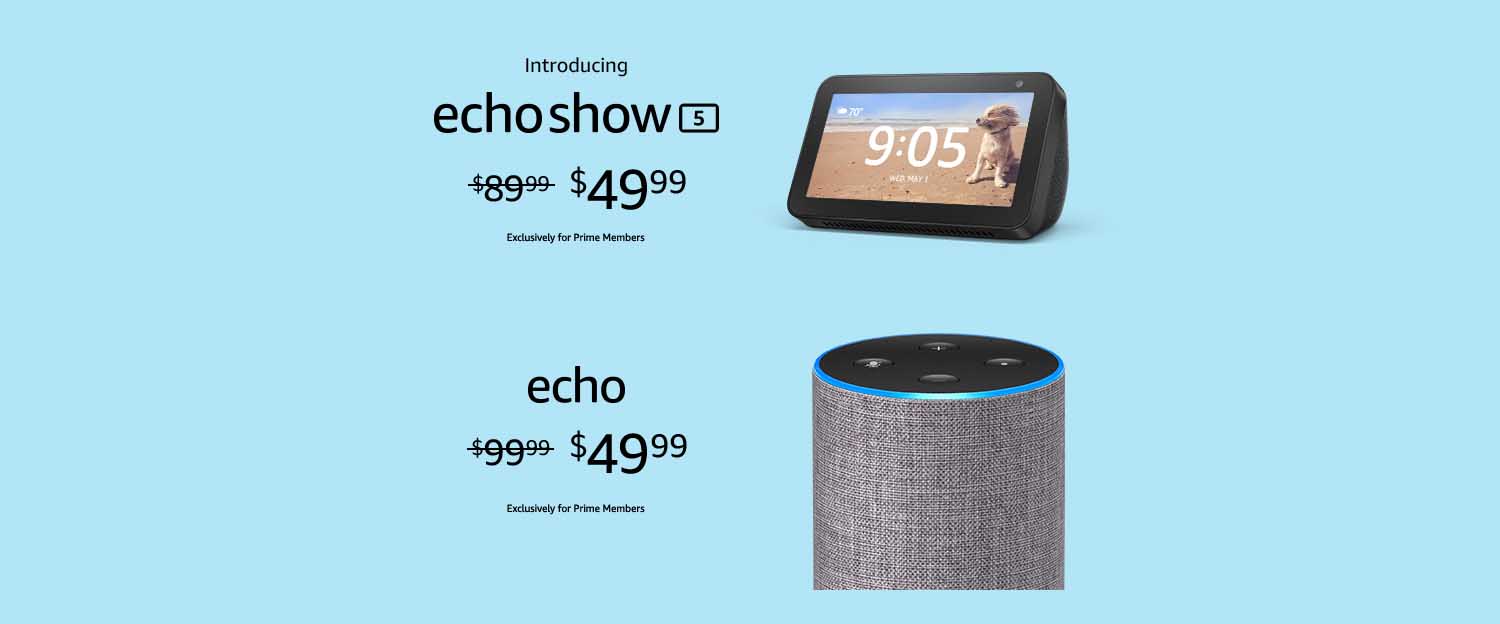 Prime Day promos for Echo, Echo Dot, Echo Show, and more >>>

Prime Day season, Amazon offers a promo for Echo (2nd Generation). Customers with Prime take 50% off Echo Alexa smart speaker >>>

Amazon offers Echo Input for $14.99 with Prime Day promo >>>
Amazon Prime Day deals for Echo (2nd Generation). Customers as well get extra $20 off with Echo 2-Pack promo, price only $59.99>

Amazon Prime Day promo for all-new (3rd Gen) Echo Dot >>>

Amazon offers a promo for Echo Show bundled with Echo Show 5, now buy 2 for $50 off >>>

Now the all-new Rainbow-Amazon Echo Dot Kids Edition launched with limited time promo >>>

Amazon Father's Day promos for all-new Echo devices >>>

Buy 2, get extra $30 off all-new Echo Show 5 >>>

Today Amazon announced all-new Echo Show 5-a compact 5.5" Echo Show. Amazon offers a promo as well to apply an extra $30 off when purchasing any two of the all-new Echo Show 5 devices. Shop here>


Amazon offers a new promo for the 2nd generation Echo. Customers receive an extra $80 savings on a purchase of two Echo devices. Benefit from this promo, customers cost only $59.99 each Echo. Offer limited time while supplies last, and limited to one Echo device two-pack per Amazon customer. Click to save for Amazon Echo devices with the promo right now >>>

For a limited time through June 6, 2019, customers get an extra 30% off Echo devices with Amazon Family membership. Just enter your child's birthday and easy two steps to join Amazon Family here>

Echo Spot promo-buy 2 to get extra $40 off >>>

"Alexa, how's Echo Input?" $19.99 now for limited time >>>

Amazon Mother's Day promo for Echo Show >>>

Amazon Echo devices promo for Mother's Day >>>

Amazon now offers promos on Echo Dot for Mother's Day. Customers as well to take extra $80 off the original price on a purchase of 3 Echo Dot (3rd Gen), that's 3 for $69.97 before tax. Shop Amazon Echo Dot right now >>>

Customers now get two Echo Dot Kids Edition for the price of one. The promo includes two free UglyDoll skins. Shop here >>>

May 1, 2019, Amazon gold box promo on Echo Dot bundled with ECOVACS DEEBOT N79S Self-Charging Robot Vacuum Cleaner>

Amazon Spring promo for Echo Show, customers buy one Echo Show (2nd Gen) will get one Echo Dot (3rd Gen) free >>>

Customers save $30 on the bundled purchase of Echo (2nd Gen) + Echo Dot (3rd Gen). Limited time promo >>>

Amazon Spring promo for Echo (2nd Generation) >>>

Amazon now offers Spring promo for 3rd Gen Echo Dot. Customers buy 3 to take an extra $80 savings. Terms and conditions>

As of April, 2019, promo code 'KIDS2PACK' is available for one free Echo Dot Kids Edition >>>

Extra $40 off Echo Spot when purchasing 2 with Amazon promo>

Amazon offers a new promo code 'KIDS2PACK' for savings on Echo Dot Kids Edition. Customers get one Echo Dot Kids Edition free when purchasing one with the promo code applied at checkout. Apply the promo code here >>>

Promo for a limited time at Amazon.com, $0.99 Echo Dot Kids Edition when you sign up for any Prime Book Box subscription. Get your $0.99 Echo Dot Kids Edition here >>>

Promo for Echo Dot of all colors bundled with Sengled smart bulb>

Promo for Echo of all colors bundled with TP-Link smart plug >>>

Promo is valid for any two Amazon Echo Spot of black or white color. Shop Amazon Echo Spot with the promo right now>

Promo is valid for any two Amazon Echo devices of the same or different colors. Shop Amazon Echo with the promo right now>

As of Feb 23, 2019, customers receive $100 off promo when purchasing two Amazon Echo Shows, receive a free Philips Hue smart bulb when purchasing one Echo Show (2nd Generation). Shop Amazon Echo Show (2nd Generation) with this limited time promo right now >>>

Valentine's Day promo for Echo Input >>>

Save all-new Echo devices with Amazon Valentine's promo >>>

For a limited time, get Amazon Echo devices for up to $50 off>

Receive a free all-new Echo Dot when purchasing the Ring Alarm 5 Piece Kit, plus a $40 discount. Shop with the promo right now >>>

Echo, where to find perfect Valentine's Day gifts? Here there are>

Extra 30% off promo code 'STUDENT30' for all-new Amazon Echo devices with Amazon Prime Student. Here the promo detals>

Amazon Echo Button is a little best year-end gift of gaming with Alexa, 30% off right now >>>


Amazon Echo Dot Kids Edition – punch red case with the holiday promo, as well to buy 3 and save $110 off the original price. Click to enjoy the savings right now >>>

Amazon RED Echo now released with 30% off promo. Give a RED Echo that gives more, click here >>>

The all-new Amazon Echo Dot bundle with Fire TV Stick 4K on promo with 40% off savings. Shop right now >>>
Additional 10% back promo on all-new Echo devices with Amazon Prime Store Card. More details >>>

Why not take this promo into your pocket? 3 Echo Dots paid for only $49.97 ($70 off savings), make the payment right now >>>

This is the biggest 2018 Black Friday shopping festival for Amazon Echo devices. Shop right now >>>








The most benefits of Echo devices on Amazon Black Friday Deals Week. Save with the 2018 Black Friday promo right now >>>


Echo Input is the most easiest way to pair with your favorite speaker, that bringing Amazon Alexa to audio equipment. 34% off Echo Input bundle with Anker portable speaker now available. Save with this promo right now >>>

Now get a FREE all-new Echo Dot when you purchase an all-new Echo Spot. Save with this promo right now >>>

Now get an all-new Echo Dot free when you purchase an all-new Echo. Save with this promo right now >>>

Amazon Echo Spot is a mini Echo Show used the 2nd generation far-field Alexa voice recognition for faster and more efficient. Now Amazon offers $30 off promo for Echo Spot. Customers as well to get 3 months FREE on Amazon Music Unlimited with the purchase of Echo Spot. Shop Amazon Echo Spot right now >>>

$20 off Amazon promo for celebrating the birthday of Echo. Customers as well to save $30 on the bundle purchase of an Echo (2nd Gen) plus an Echo Dot (2nd Gen). Shop now >>>
$10 off Amazon promo for celebrating the birthday of Echo Dot Kids Edition. Additional, customers get $30 savings on the purchase of 2 units Echo Dot Kids Edition, or save up to $60 with the purchase of Kids Edition 2-packs. Shop Echo Dot Kids Edition right now >>>

Promo for the new Amazon Echo Input bundle with the Bose Soundlink Revolve portable speaker, the Anker Soundcore XL portable speaker, the Bang & Olufsen Beoplay A1 portable speaker, the Marshall Woburn II wireless speaker, or with the iHome AV2 speaker. $34.99 savings will be applied with your Echo Input bundle purchase. The Echo Input inputs Amazon Alexa Voice to an external speaker via Bluetooth or 3.5 mm audio cable. Shop the new Amazon Echo Input right now >>>

Amazon celebrates Alexa birthday, offering $20 off promo for all-new Fire TV Stick 4K bundle with Echo Dot. Shop now >>>

Amazon Echo Buttons are gaming companions with more than 90 compatible Alexa Skills as well to personalize a new self-own skill in minutes. That's an exciting new way to keep playing a game with your friends. Shop Amazon Echo Buttons right now >>>

$50 off the bundle purchase of Fire TV Recast (DVR) with Fire TV Stick 4K. Shop now >>>

Now get extra $20 savings on the bundle purchase of Fire TV Stick 4K and the 3rd gen all-new Echo Dot. Sop now >>>


25% off Echo Dot Kids Edition now available, as well to save $50 on 2-packs of select Kids Edition. Shop now>>>

Now in October 2018, the 2nd generation Amazon Echo Dot on promo for only $29.99. Shop now >>>

With Echo (2nd Generation) and Sengled Starter Kit, customers use Amazon Alexa for easily voice controlling the room lights, as well to adjust brightness and more. Shop Echo (2nd Generation) bundle with the Sengled Starter Kit right now >>>

Now buy two Echo (2nd Generation), save extra $30 off >>>

With a compatible Alexa-enabled device, the Amazon Fire TV Recast is an Over-the-air DVR that lets customers watch and record TV and other video streams at home or on-the-go. 2 tuners to record 2 shows at once. 500 GB store for up to 75 hours of HD videos. No monthly fees. Click to save on Amazon Fire TV Recast right now >>>

Sep 20, 2018, Amazon announces all -new Echo devices.
The all-new Echo devices include:

$30 savings for Echo Sport. Anywhere just ask!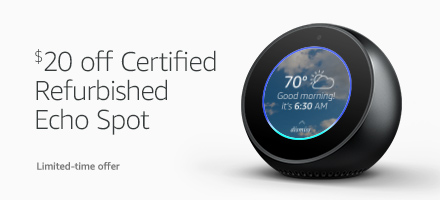 Now customers save extra $20 on Amazon certified refurbished Echo Spot >>>Limited time offer.

The most suitable dock-All-New Show Mode Charging Dock, customers receive the summer benefits to save on the bundle purchase with the all-new Amazon Fire. Shop now >>>


Get free 2 months subscription of ESPN+ with the purchase of the all-new 4K ultra HD Fire TV and Alexa Voice Remote >>>

Amazon Echo Device Father's Day sale, starting at $29.9 >>>

Amazon today announces a new device-Fire TV Cube. Customers also get $10 Prime Video credit with the purchase of Fire TV Cube before July 1, 2018 at 11:59 p.m. (ET) >>>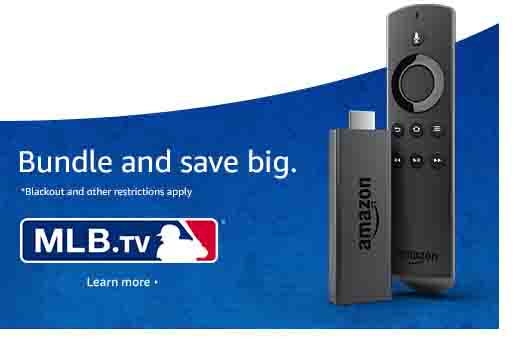 Bundle and save big with MLB.TV all teams subscription >

Echo Dot for kids, up to $109 in savings for parents>>>

6 all-new Echo devices Amazon Game Day 2018 deals >>>
Today Amazon brings 6 all-new devices into their Echo family, in the meanwhile offering lower prices and new promo code for customers to get the extra savings on.