Now Steven Spielberg Director's 9 Blu-ray Collection, 77% off>
---

$2.99 to rent with Prime promo for Angel Has Fallen and more>
---

Amazon the best Movies and TV Shows 2010-19 flashback, including award-winning, best sellers from the past decade >>>
---

Amazon New Year New You promo for select 4K UHD titles, buy any two Amazon featured 4K UHD movies for $30 total >>>
---

Promo on Dec 20, 2019, customers save 38%-50% on Warner Bros. 4K Film Collections, including The Matrix Trilogy, The Dark Knight Trilogy, Batman, DC 7 Film Collection, and more >>>
---

Dec 16, 2019, Amazon Last Minute promo. Customers save 58% on Jurassic World 5-Movie Collection >>>

Dec 11, 2019, customers save 53% on Batman: The Complete Animated Series with Amazon gold box promo >>>
---

Dec 5, 2019, today only, customers save 76%- 85% off on select Best of Warner Bros. Collections with Amazon gold box promo >>>

Dec 1, 2019, Cyber Monday night promo, customers receive up to 62% savings on select Star Trek titles >>>

Amazon Cyber Monday countdown for movies and TV shows. Customers save on rentals and channels at the movie night>

Nov 28, 2019, Black Friday deal, customers save 50% or more on Harry Potter 8 Movie Collections with Amazon gold box promo>
---

Amazon Black Friday promo week on movies and TV shows, rent or buy with recently deals you can watch >>>

Now $1.99 to rent Family movies with Amazon holiday promos>
Amazon holiday exclusive promos for movies. Customers rent classic holiday movies for $2.99 (50% off or more) >>>

Watch on Thursday with Amazon Prime, and more Prime live and upcoming games here >>>

Promo on Oct 30 only, customers save up to 40% on favorite TV complete series (Bru-ray or DVD): Full House, Fringe, The Originals, Mike & Molly, The Vampire Diaries, Batman, ER, and more >>>

Promo now with new low prices. Save on recent releases Rocketman, Overlord, Pet Sematary 2019, Bumblebee, and more >>>

Yesterday Amazon announced a second season of the beloved romantic anthology series Modern Love which inspired by The New York Times' popular column, will premiere on Prime Video in 2020. Customers with Prime can stream the unique stories of Modern Love's season one here >>>
Oct 21, 2019, customers save on Classic Monsters: Complete 30-Film Collection (Blu-ray or DVD), 53% off with Amazon gold box promo>

A 2019's movie provides a fresh rendition of the great songs of The Beatles, a perfect story for Beatles fans. $2.99 to rent Yesterday>

Now Amazon launches Halloween Collection promos on Prime videos. Customers watch Kids and family Halloween favorites, rent or buy Halloween TV and movies picks, as well to save more on Amazon Halloween Store >>>

Promo on Sep 23, 2019, only, customers save up to 65% on Friends: The Complete Series 25th Anniversary Edition >>>

Customers with Prime now rent The Secret Life of Pets 2 for $2.99. In 30 days to start watching. Rentals here >>>

Customers with Prime promo rent Marvel Studios' Avengers: Endgame for $3.99 only >>>

Amazon offers a promo for The Big Bang Theory: Complet Series, CSR, BD, DVD, limited edition digital. Save right now >>>

Aug 2, 2019, customers get 57% off Fast & Furious 8-Movie Collection with Amazon gold box promo >>>

Amazon now offers promos for the Fast and Furious franchise, get here >>>

$3.99 to rent the adult superhero Shazam, you can start watching in 30 days. More exclusive promos for movies & TV shows here >>>

Amazon offers promos for Show Channels, customers save 50% on select channels for 3-months subscription >>>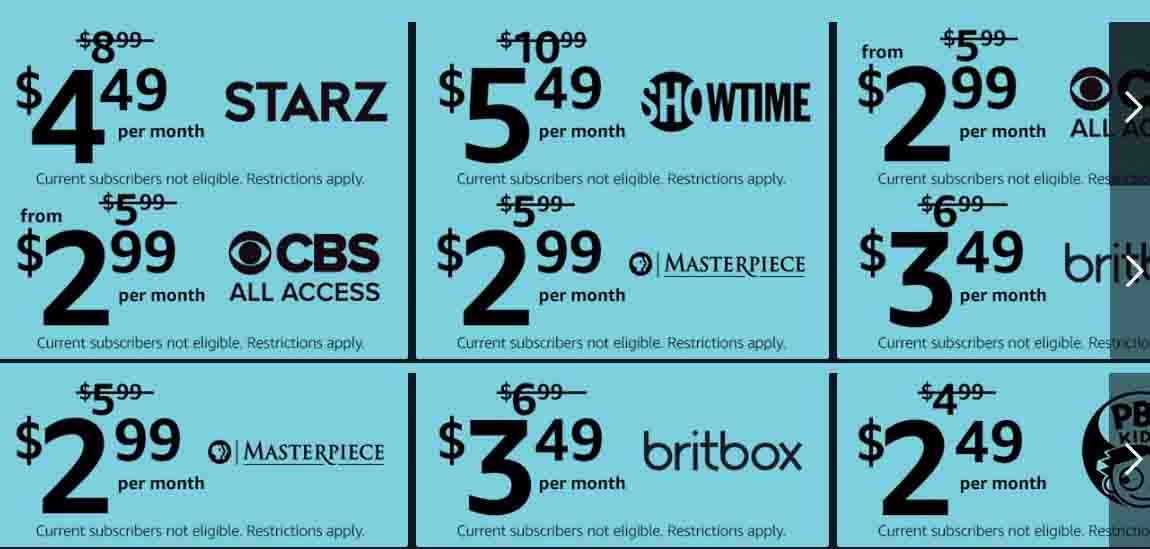 Marvel movies $1.99 to rent on Amazon Prime Day promo >>>

Amazon early Prime Day promos for movies & TV shows, click to get excited from the entertainment deals >>>

Amazon Prime Day 2019 announces Taylor Swift that the 10-time GRAMMY award-winning artist to headline the Prime Day Concert. Customers watch streaming live here >>>
Amazon Prime Day 2019 announces Taylor Swift that the 10-time GRAMMY award-winning artist to headline the Prime Day Concert. Customers watch streaming live here >>>

Rent includes 30 days to start watching the newly released "Us" for only $2.99, more exclusive promos from Amazon Prime Video >>>
Customers save on Movies for Amazon Sony Week Promo >>>

Customers save on Blu-rays and DVDs for Dad with Amazon Father's Day promos >>>
Watch the final trailer at Amazon.com to get tickets for The Secret Life of Cats 2 in theaters Friday >>>
Ugly Dolls is in theaters now. Customers get free Ugly Dolls skins for Echo Dot Kids Edition when adding Echo Dot Kids Edition into the shopping cart. More Amazon promos for Ugly Dolls >>>

$2.99 to rent Amazon new releases including Aquaman, Green Book, First Man, Instant Family, and more >>>

$2.99 promo to rent Marry Poppins Returns and watch within the next 30 days> Amazon Prime Member only.

Customers save 72% on the box set of The Land Before Time: The Complete Collection with Amazon gold promo >>>
The 8 Seasons of Game of Thrones now is available for Amazon Prime Member >>>
Amazon Prime Member rend Vice now for only $3.99 and watch within the next 30 days. More exclusive promo >>>

Get tickets of Missing Link from Amazon for everywhere Friday >>>

Fill your Easter baskets with Amazon movies and TV shows >>>

Amazon announced the launch of MLB.TV on Prime Video Channels. Amazon Prime members have the convenience of streaming live out-of-market MLB games while at home or on-the-go. Learn more>

Now Amazon customers can get a FREE ticket for a child when purchasing an adult movie ticket. Here's how >>>

$2.99 to rent new Amazon releases with Prime promo >>>

Amazon now qualified more than 150 of the most popular 4K UHD Movies for 3 titles $39.99 total. Add 3 items to your shopping cart from the selection on the promo page> The discounts will be automatically applied.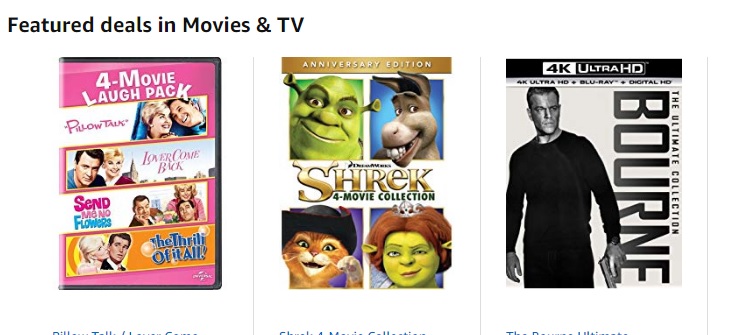 Amazon promos for 4K The Bourne Ultimate Collection, all 4-movie laugh pack Pillow Talk / Lover Come Back / Send Me No Flowers / The Thrill, Fifty Shades: 3-Movie Collection [Blu-ray], and more >>>

Find 2019 Academy Award nominees here at Amazon movies and TV shows, shop on DVDs >>>

January 5, 2019, Amazon Digital promo week for movies and TV shows. Customers get 40% off for 3 months on select channels>
Amazon Digital Day 2018, save 40% or more on popular movies>

Amazon 2018 Year-End Deals in Movies and TV Shows, limited-time offer. Shop Amazon Movies and TV Shows with promo rewind>
Amazon 2018 Black Friday, save up to 50% on movies and TV shows. Shop right now >>>

2 months of STARZ free with the bundle purchase of Fire TV stick. With STARZ customers can watch movies & TV shows like "Power" and "Outlander", "Jumanji: Welcome to the Jungle", "Home Alone", Disney's "Frozen", and more the latest episodes of original series. Shop this bundle including a Fire TV Stick and free 2 months of STARZ subscription right now >>>

The Pixar's Incredibles 2 now $2.99 to rent for Amazon Prime Member. 4K UHD available. Shop now >>>

Now Amazon offers a promo for 4K UHD Movies. Customers add 3 eligible 4K UHD titles to shopping cart, the discount will be applied to a total order value for $49.99 or less. There featured more than 160 qualifying 4K UHD Movies including the most popular The Big Lebowski, Blade Runner: The Final Cut, Fantastic Beasts and Where to Find Them, The Matrix, Mad Max: Fury Road, etc. Offer limited time, click to save right now >>>

Nov 2, 2018, promo for trilogies, Lord of the Rings, The Hobbit and more. Shop now >>>

October 29, 2018, promo for up to 59% savings on featured TV series titles, including the complete television series Batman, Fringe, Chuck, Friends, Smallville, and more. Shop now >>>

Movies and shows coming in November head the new series of Julia Roberts, she works at Homecoming, then left, then the more. Free watch with Amazon Prime >>>
October 22, 2018, today only, complete 30-film blue-ray collection for only $69.99. Shop now >>>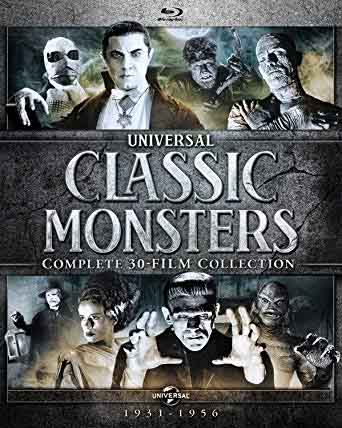 Ant-Man and the Wasp, $2 to rent for Prime customers >>>

Amazon best sellers of movies & TV shows, updated hourly. Shop now >>>

50% off theatrical version rental of Solo: A Star Wars Story, includes 30 days to start watching once rent and finished in 3 days. Click to Amazon exclusive promo for movies & TV shows right now>

In October, Amazon Prime exclusive promo for movies and TV shows, only $2.99 to rent the new films, including Isle of Dogs, Hereditary, Blockers, Book Club, Overboard, and more >>>

In September, great deals now on a great actor >>>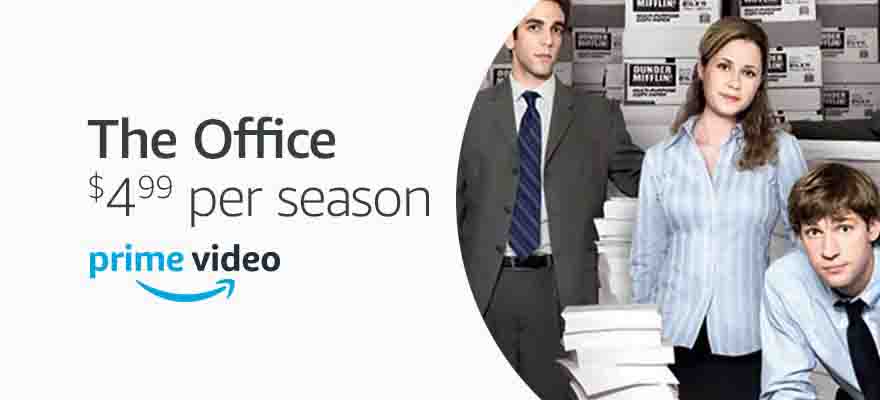 Which is the most-watched movie or TV show last month? Here is the list of 10 in July, the legal drama "Goliath", the Michael Bay's signature franchise "Transformers: The Last Knight"…, click to know more >>>
Amazon Prime Day, customers get a $10 Amazon Credit with the paid app subscriptions on Showtime, HBO, AMC. More detaills >>>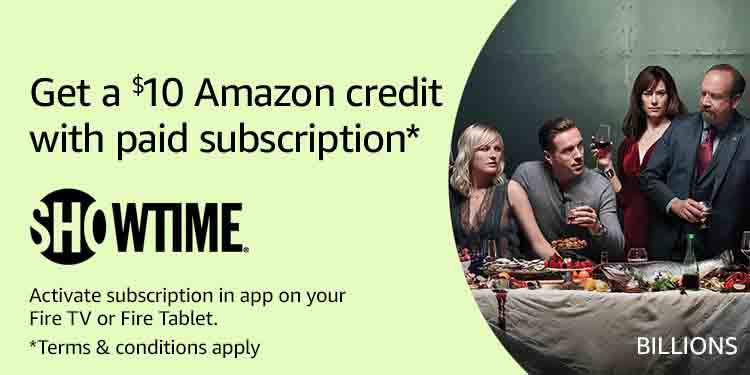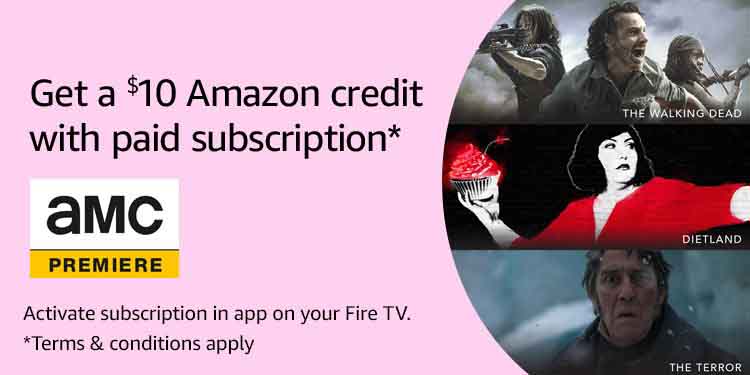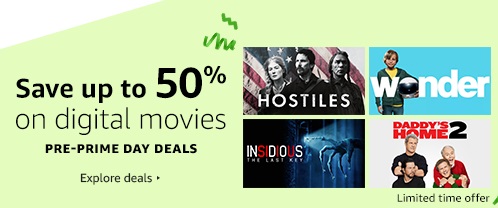 Pre-Prime Day deal, save 50% on popular family movies >>>

Pre-Prime Day deal, $1.99 to rent the most popular movies>>>

Here 10 top movies & TV shows in past June, and there are the most popular Prime Day 2018 offerings >>>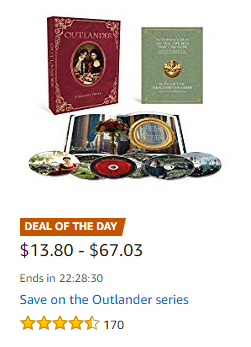 June 27, 2018, save on Outlander season 1 and season 2 collector's edition>>>
June 22, 2018, 24 hours limited time promo 62% off Jurassic Park Collection (including Jurassic Park The Lost World Jurassic Park Jurassic Park III Jurassic World), 3D+ Blu-ray. Shop now >>>

Want an adult drama or something special for high enjoyment? Here a general introduction for movies and TV shows coming to Amazon Prime in June, 2018 >>>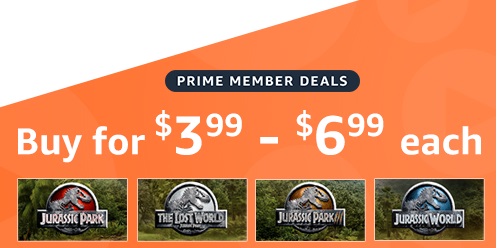 From June 1, 2018, buy Jurassic movies at $3.99-$6.99 each>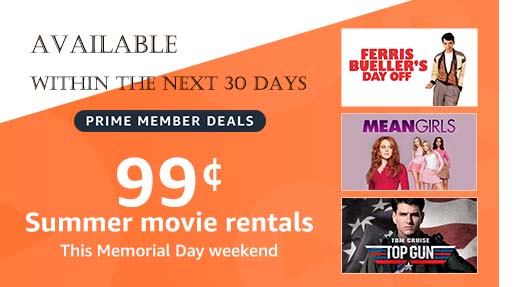 In summer 2018, Movie Rentals at just 99¢, available within the next 30 days >>>

Streaming with MLB.TV all teams game in HD, live or in an on-demand leisure time, as well as watching either the home or away broadcast. Click to subscribe >

Superhero Movie Rentals at $1.99 now>>>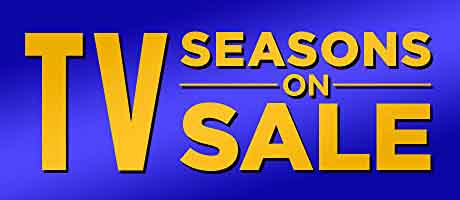 This season on sale, including all seasons of "The Big Bang Theory", and more>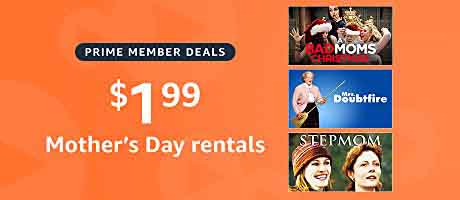 From May 4, 2018, rentals of the new released movies & TV shows only at $2.99 with Prime >>>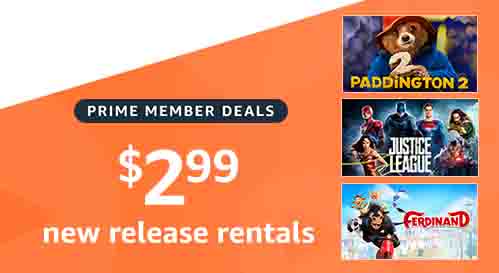 Binge-watch in May 2018. The new TV shows and outstanding movies are coming to us with Prime in advance >>>

Movies & TV Toys promo for Star Wars, Harry Potter, Incredibles, Avengers, PAW Patrol, PJ Masks, and more>>>
The latest movies & TV shows available on Amazon spring promo >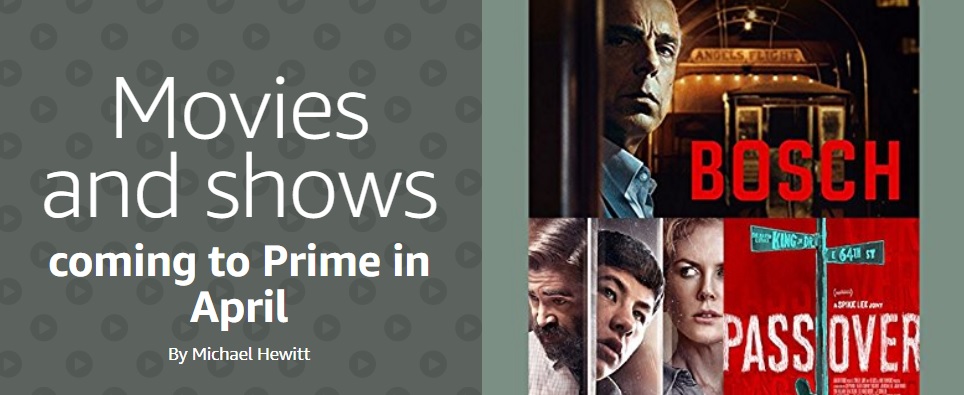 In April, there are well-regarded films and new TV shows of family series offering on schedule >>>
New movies deal in March, $1.99 for popular movie rentals >>>

Amazon Channels 3-day free trial CBS all access >>>


New year exclusive promos, a rotating deal selection of most popular movies & TV shows on Amazon >>>



December 17, 2017, holiday deal for top anime titles on Blu-ray >


Amazon Cyber Monday deals week, 40% off movies & TV shows >

These days, 40% off pre-Black Friday promo for movies & TV shows at Amazon.om >>>

Now Amazon offers a holiday exclusive promo for Prime movies & TV shows. Amazon Prime Member is eligible to buy or rent on a special discount from a rotating selection of the most popular movies & TV shows. Save 50% on family favorite rentals; Favorite comedies starting at $0.99; Get Hard rent for $1.99; 50% off The Heat; Snatched exclusive deal…Click to save from Amazon holiday exclusive promo for movies & TV shows right now >>>