Amazon now offers promo for all-new Kindle Kids Edition (purpose-built for ages 7 and up). Customers get an extra 20% savings when purchasing two all-new Kindle Kids Edition (10th generation). The all-new Kindle Kids Edition includes 1-year subscription of Amazon FreeTime Unlimited, a kid-friendly cover, and a 2-year worry-free guarantee – you will get up to a $219 additional value >>>
---

Promo now to take $45 off on Kindle e-reader essentials bundle, including a built-in front light all-new Kindle, a Kindle fabric cover, and a power adapter. Save here>>>
---

Amazon offers promo for Certified Refurbished Kindle. Customers get 3-month FREE Kindle Unlimited on the purchase of Certified Refurbished Kindle (with a Built-in Front Light) at only $59.99>
---

March promo for Kindle Paperwhite, $45 off now with waterproof plus 2x the storage >>>
---

Amazon Valentine's Day promo for All-new Kindle Kids Edition, children as well as access to thousands of books free >>>
---

Only the last two days, buy 2 Kindle devices, get an extra 20% off>
---

Amazon January promo for Kindle devices, customers purchase two of the All-new Kindle 10th Generation, Kindle Paperwhite 10th Generation, or All-new Kindle Oasis will receive an extra 20% off total purchase amount. Promo limited time through 11:00 a.m. (PT) on January 31, 2020. Shop Now >>>
---

Monthly promo, customers save $45 on the Kindle Paperwhite>
---

Amazon Last Minute promo applied on all-new Kindle (with built-in front light). Purchase and receive a $5 Amazon credit for ebooks when you activate your all-new Kindle. Save right now >>>
---

Amazon Cyber Monday promo for Kindle Paperwhite, Kindle devices, and Kindle device bundle. Customers get Cyber Monday savings on Kindle, plus a $5 Amazon ebook credit >>>

Amazon Kindle devices Black Friday 2019 countdown, customers get $45 off Kindle Paperwhite plus a $5 Amazon credit for ebooks when you activate your Kindle Paperwhite>>>

The all-new (10th generation) Kindle Kids Edition now shipping. Customers add two Kindle Kids Editions to their order with promo, an extra 25% discount will be applied at checkout. This Amazon promo for all-new (10th generation) Kindle Kids Edition expires at 11:00 p.m. November 20, 2019.

Amazon Oct promo for Kindle, Kindle Paperwhite, Kindle Oasis>

Amazon offers a promo for Kindle Paperwhite Essentials Bundle>

Amazon now launches a new Kindle device-Kindle Kids Edition. Kindle Kids Edition designed for just kids' reading with the included year of FreeTime Unlimited. Customers now take extra 25% off with a purchase of 2 Kindle Kids Edition >>> The promo expires at 11:00 p.m. (PT) November 20, 2019.

$50 off promo for Amazon Kindle Oasis E-reader >>>

Customers with Prime get an extra $40 off Amazon Kindle Paperwhite, as well to enjoy 3-months of Kindle Unlimited FREE>

20% off Kindle Oasis E-reader with Amazon monthly promo now>

Amazon promo on Kindle Oasis, customers now save $50 on Oasis previous generation, 9th closeout, as well save essentials bundle>

Customers save 10% with promo when purchasing 2 Kindle devices include All-new Kindle and Kindle Paperwhite. The EXTRA 10% discount will apply to the two lowest-priced Kindle devices in your shopping cart. Offer limited time through August 31st, 2019. Shop Amazon All-new Kindle and Kindle Paperwhite here >>>

July Prime Day, customers with Amazon Prime receive a $5 eBook credit when purchasing a Kindle Paperwhite at $84.99 >>>

Amazon Father's Day promos for Kindle Paperwhite and Kindle Oasis >>>

Mother's Day promo for all-new waterproof Kindle Paperwhite. Shop right now >>>

Amazon limited time promo for Mother's Day, customers save on the Kindle Paperwhite and Paperwhite essentials bundle >>>

Amazon Kindle Paperwhite monthly promo >>>

March 2019, the National Reading Month, $50 off promo for the all-new Amazon Kindle Paperwhite essentials bundle including leather cover and power adapter. Shop right now >>>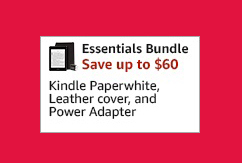 Amazon now offers a perfect gift bundle of Kindle Paperwhite, including a Kindle Paperwhite 6″ E-reader with an Amazon leather cover, and a shoulder travel bag. In a limited time, customers will get $60 in savings for this bundle promo. Click to save right now >>>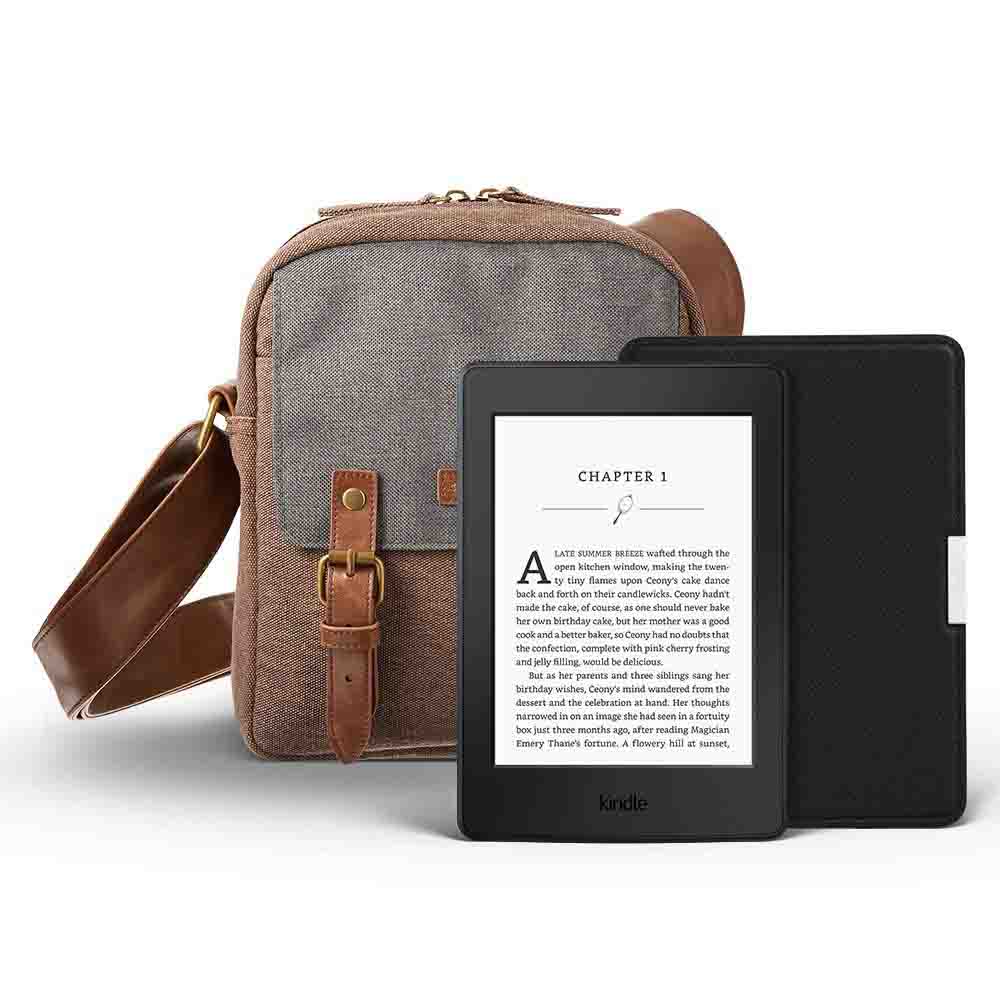 Features:
This is an excellent present for the Valentine. Limited-time provide.
Contains the newest Kindle Paperwhite 6″ E-Reader in Black Specific Edition ($119.99), Amazon Leather Cover ($39.99), and shoulder travel bag ($49.99).
Larger resolution show (300 ppi) – with twice as quite a few pixels
Now with the exclusive font Bookerly, hand-crafted in the ground up for more rapidly reading with much less eyestrain.
Built-in adjustable read light–use for day and evening. As opposed to tablets, no screen glare, even in vibrant sunlight.
A single battery charge lasts weeks, not hours.