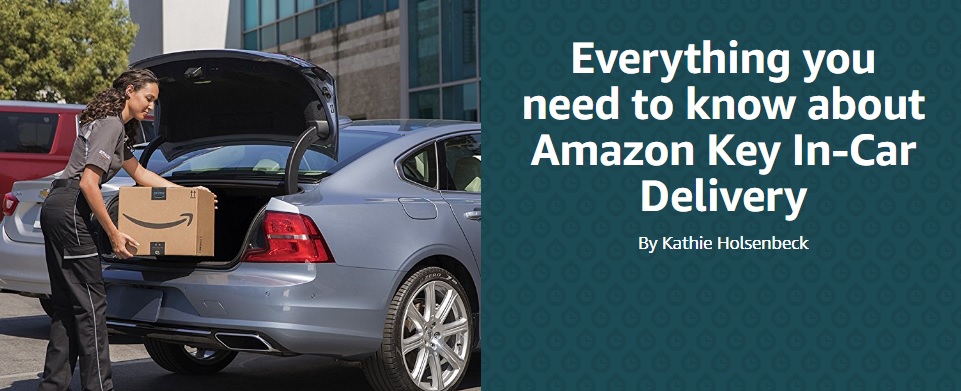 And what is Amazon Key In-Car Delivery?
Amazon announced on the April late day that the service of in-car delivery is available for their Prime customers with no extra fee. Amazon Prime Member now gets the option to receive the delivery of their shopping items inside their compatible vehicle without who having to be there, even the car parked in a publicly area.

Then, how customers to deserve and ensure the new delivery service with securely convenient? Here the steps:
Need an Amazon Prime membership.
Have a compatible cloud-connected vehicle, including 2015 or newer Volvo, Chevrolet, Buick, GMC or Cadillac vehicle, and more. Check the eligibility of your car here>
Of course, your parked area needs a publicly accessible. It's best when parked at home, or at work, and some other locations in your address book.
 Download the Amazon Key App and set to link your Amazon account.  Shop on Amazon so as to select any of your eligible parking addresses and the "In-Car" delivery option at Amazon checkout.
In-car delivery works with Prime one day and two-day shipping service. Amazon will tell your expected delivery time that may typically a 4-hour time window.
Let your vehicle parked within two blocks of your delivery address in delivery time. The Amazon Key App will notify when the delivery is on its way, your vehicle is unlocked, relocked, until all works have been finished.
Click to download the Amazon Key App to enjoy the free benefit from Amazon in-car delivery right away >>>