From the May 2018, customers can use Amazon Shopping App to enjoy free shipping to Hong Kong when order over $100 on Shoes and Clothing. Click to see more details>>>
The promo code 'UNIONPAY62' keeping available through December 25, 2017, 11:59 PM (PT).
The extra $15 off promo code for Black Friday 2017 holiday month is 'UNIONPAY62'. Click to Amazon for details and apply the promo code for this year's holiday savings right now >>>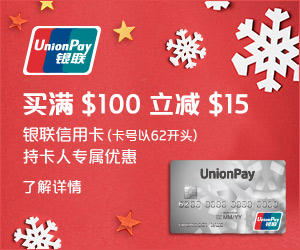 The holiday promo code 'UnionPay15' applies only to spending on products sold by Amazon.com and shipped through AmazonGlobal to the Asia countries and regions, including mainland China, Hong Kong, Macau, Singapore and Korea. Promo code 'UnionPay62' applies for $5 off on any purchase more than $5, and Promo code 'UnionPay15' for $15 off on purchase of $100 or more. You need to select an UnionPay* credit card as the payment card during the checkout process. This is a limited time offer, the promo code expires Jan.26, 2017. Click to get the UnionPay promo code through Amazon right now >>>
*  Union Pay means "banks united", its founding shareholders were 85 Chinese international financial institutions, and Amazon now works closely under its partnership incentive schemes.